Zoover.nl7.1
Booking.com7.2
Expedia.nl8.2
TripAdvisor.nl8.0
Google8.0
Holidaycheck8.0
totalReviews4,406.0
Top location at the Gooimeer
Welcome to Fletcher Hotel-Restaurant Nautisch Kwartier. The hotel in Huizen can be found in the Old Haven, situated directly at the Gooimeer. The interior design of Fletcher Hotel-Restaurant Nautisch Kwartier is very modern and its rooms are truly luxurious. Some rooms overlook the beautiful lake.
Situated at the Old Haven in Huizen
Culinary delights at Marina Lounge
Nearby the woods of 't Gooi
Official wedding location
Ten multifunctional meeting rooms
Tasteful pasta dishes at restaurant Laguna

Wonderful stay
At Fletcher Hotel-Restaurant Nautisch Kwartier you are assured of a carefree stay. The comfortable hotel rooms guarantee a perfect night's sleep. During the day you can discover the stunning surroundings of the hotel by making use of our e-bike rental service.
After an active day you can take a seat in Restaurant Marina Lounge or in Laguna where you can enjoy delicious culinary delights. For an exquisite glass of wine you can draw up a chair in our beautiful RIVA Wijnlounge. Fletcher Hotel-Restaurant Nautisch Kwartier is also ideal for meetings and parties.
Beautiful location
The surroundings of our hotel in Huizen is definitely worth a visit. The beautiful town has lovely little houses and is surrounded by woods, heathlands and water.
Our team warmly welcomes you!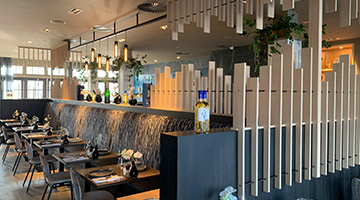 Marina Lounge
Marina Lounge Huizen is the culinary heart of our hotel, where honest and pure ingredients are used. Enjoy a delicious shared dining dinner with a view of the beautiful Gooimeer. You can go to Marina Lounge for an extensive dinner, but also for a tasty lunch or a refreshing drink on our terrace.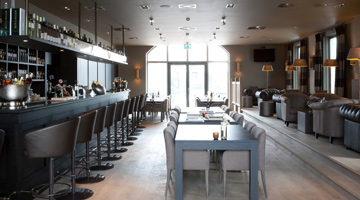 RIVA Wine Lounge, the place to be in 't Gooi!
Enjoy specially selected fine wines from various regions around the world! There are 100 different wines on the menu! Relaxing in a stylish, contemporary space with a view of 't Kolkje, you will enjoy a special wine with a culinary hors d'oeuvre.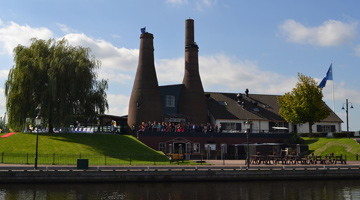 The 'Kalkovens', a unique party venue
Something to celebrate? Is it your birthday, graduation, doctorate celebration or wedding? The Kalkovens is the première location for all your get-togethers. So whatever your reason for the party, we pride ourselves on arranging everything to perfection. The 'Kalkovens' also offers a special meeting location in the area of Utrecht.


The 'Kalkovens'